Description
มิเตอร์ดิกิตอล Vici VC99
-วัดกระแส ac-dc ได้ 1000v
-วัดความถี่ได้สูงสูด 60 mhz
– Capacitance -40nF / 400nF / 4uF / 40uF / 400uF / 2000uF
-Resistance 600 Omega / 6k Omega / 60k Omega / 600k Omega / 6M Omega / 60M Omega
-วัดอุณถูมิ -40 ° C ~ 1000 ° C
-ac-dc Current 600uA / 6000uA / 60mA / 600mA / 6A / 20A
Specifications:
Display: 6000 (3 6/7) digits Large LCD with automatic polarity, unit symbol and 61 selection analog display
Measuring method: double integral A/D Conversion
Sampling Rate: approx. 3 Times / Second
Over range indication: "OL" displayed in the highest digit
Low battery display symbol
Operating Temperature: 0 ~ 40 °C; Operating Humidity: <80% RH
Storage Temperature: -10 ~ 40 °C; Storage Humidity: below 80% RH
Safety Standards: CE, IEC1010, double insulation II
Power: 2 x 1.5 V AAA batteries (included)
Dimensions: 185 (L) x 93 (W) x 35 (H) mm
Weight: approx. 290g (batteries included)
Technical Specification: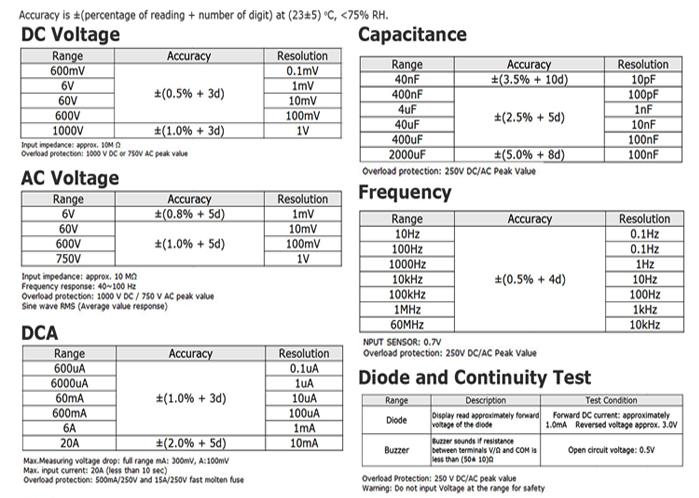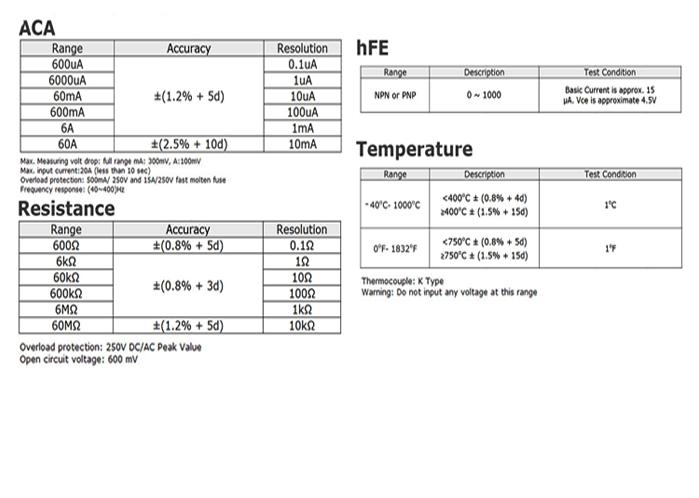 The designed parameter has the function of measuring DC and AC voltage, DC and AC current, Resistance, Capacitance, Frequency, Temperature (°C / °F), Duty circle, Transistor, Diode and Continuity Performance Test.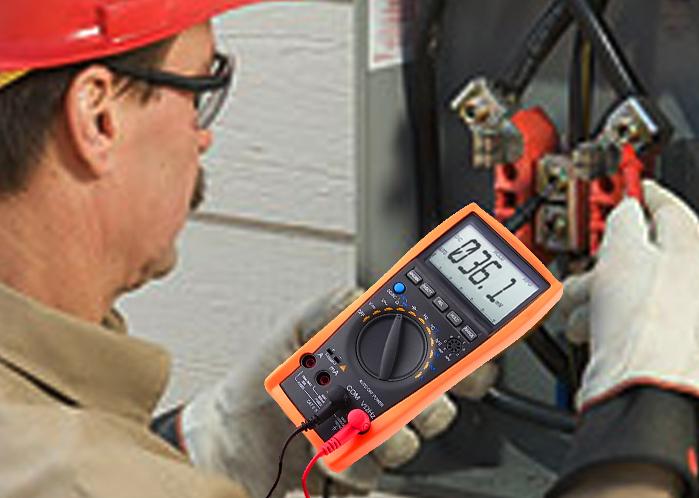 Features includes: analog bar and unit symbol display, data holding, relative value measuring, maximal / minimal value measuring, auto / manual range switching (RANGE), auto power off and warning function, 6000 counts (3 6/7 digits) Large LCD Display. Plus, it adopts double integral A / D converter as its core.
It is an ideal tool for labs, factories and radio-technology.It is designed according to IEC1010 standard ( safety standard issued by International Electro technical Committee.)